5
min read
Headaches and migraines are prevalent. They can feel very uncomfortable and limit your functionality. There are multiple causes of headaches and migraines, including stress, ill health, and poor nutrition.
It may be challenging to control all the causes of headaches, but there are very healthy, natural, and tasty cures. So, you can lay off the painkillers for a while.
In this article, we discuss natural headache remedies that are easy to try, and the best ingredients for smoothies that help deal with migraines. We would also share the top 3 smoothies for headaches and migraine relief.
Natural Headache and Migraine Remedies
Before we go ahead and share the wonderful recipes, let's look at a few natural ways to get rid of headaches and migraines. It's very beneficial if you try any of these alongside the smoothies for a more healthy lifestyle:
Acupressure: Acupressure was first practiced thousands of years ago in China. It is a remedy that relaxes the body and treats disease. This remedy requires pressure to be applied to the body's acupoints.
Compressions: Placing a cold compress against their head and neck is a soothing relief from pain and headaches for some people. For this remedy, you just need to use a cold compress. This causes the blood vessels to constrict, and it reduces inflammation, causing the pain to reduce. However, this remedy doesn't work for everyone.
Essential Oils: Essential Oils are natural remedies for a lot of things. For example, lavender and peppermint oil are popular choices for headaches. Menthol is a safe way to relieve pain, and Lavender helps improve sleep, and reduces anxiety and stress.
Sufficient Sleep: Lack of sleep can cause you to experience headaches. Also, when you sleep too much too, you could have headaches. So, the best thing is to get the right amount of sleep which is about 7-9 hours.
Yoga: Lastly, Yoga has been a lifelong remedy for headaches and migraines. It also improves overall health and wellness. Additionally, Yoga improves deep breathing and relieves tension in the body.
ARTICLE CONTINUES AFTER ADVERTISEMENT
Top 3 Smoothies for Headaches and Migraines
Smoothies are an excellent method of adding minerals, vitamins, and other nutrients to your diet. Apart from relieving you from headaches and migraines, smoothies also aid in detoxifying your body.
With a smoothie recipe, you get to combine many healthy ingredients and end up with a delicious serving of smoothie. It also makes it easier for you to digest and absorb the nutrients in the ingredients because they're liquified.
Here are the top three recipes for smoothies for headaches and migraine relief: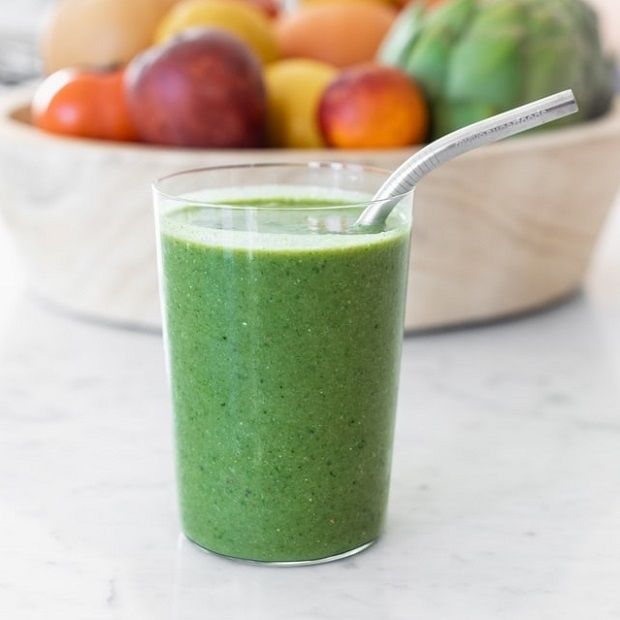 The Green Cleanse recipe is rich in healthy vegetables with nutrients that help relieve pain, detoxify, and oxidize the body. The ingredients include cucumbers, celery, kale, pineapple, lemon juice, and coconut water.
Ingredients
½ cup of cucumber
1 cup of kale
½ stalk of celery
½ cup of pineapple
1 ½ cup of coconut water
3 tablespoons of lemon juice
Method
Put all the ingredients in the blender's pitcher.
You can cut the vegetables into smaller chunks for easy blending.
Let the blender run for a few minutes till you get your desired texture.
You can include ice cubes in the recipe to make it cool.
ARTICLE CONTINUES AFTER ADVERTISEMENT
Banana and Oats Tropical Smoothie
This is a very delicious and filling smoothie rich in anti-inflammatory substances and spinach, which is loaded with magnesium. This recipe which produces a smoothie for headache relief is straightforward to make and requires very few ingredients.
However, some people who suffer headaches and migraines may be sensitive to bananas, so you may use avocado instead. Also, the banana adds a sweet flavor to the smoothie, so to keep the sweetness, you could add a tablespoon of maple syrup.
Ingredients
1 cup of spinach.
1 banana peeled.
¼ cup of raw oats.
1 cup of coconut milk.
Method
Dice the bananas and spinach into small chunks.
Fill the jar with coconut milk till it reaches the max line.
Blend the ingredients for 2-5 minutes for a smooth texture.
Blueberry Muffin Smoothie
This recipe is also very straightforward to prepare, and it offers a quick relief smoothie for headaches and migraines. The ingredients are a perfect mix of nutrition that is important for maintaining a healthy balance.
Ingredients
For this smoothie, you will need:
¾ cups of vanilla almond milk.
2 tablespoons of oats.
⅓ cup of blueberries.
½ teaspoon of vanilla extract.
1 ½ tablespoon of cashew butter.
Method
Put all the ingredients in the blender.
Run the blender, preferably one for smoothies, till you get the texture you want.
You can also add ice cubes to the smoothie if you'd prefer your drink a bit chilled.
ARTICLE CONTINUES AFTER ADVERTISEMENT
Natural Ingredients that Help Relieve Headaches and Migraines
According to Healthline, here are some essential natural ingredients that you can add to your diet to avoid headaches and migraines:
Magnesium: Magnesium is one essential mineral that offers a ton of health benefits. It is proven to be a tremendous headache and migraine reliever. In addition, various foods are loaded with magnesium, including dark leafy greens, avocados, bananas, fish, raw cacao, and nuts.
B-Complex Vitamin: A vitamin B-complex is the combination of all the 8 B vitamins. Vitamin B aids in reducing the frequency and intensity of migraines and headaches.
Ginger: Ginger is a great natural ingredient that can effectively relieve headaches and migraines. It is often compared to being just as effective as some painkillers. The great thing is that Ginger comes in various forms, so you can easily add it to your diet.
Water: Water is arguably one of the simplest remedies for headaches and migraines. It's as easy as drinking enough water regularly to stay hydrated, but not everyone does this. In addition, we are often too busy to remember to drink water, which may cause dehydration.
So, the best way to avoid headaches and migraines is to drink lots of water during the day and stay hydrated. You could also add different forms of those ingredients to your smoothies for headaches and migraines.
There are a lot of benefits to maintaining a healthy lifestyle. In this article, we have listed three of the best smoothie recipes that can help you fight off headaches and migraines. These recipes are not only tasty but also very easy to prepare.
If you frequently experience headaches or migraines, you should give these recipes a try. Thanks to their natural ingredients, they will be very helpful in getting some relief from your migraines and headaches.